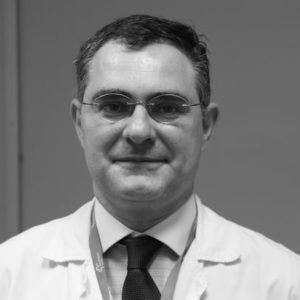 Head of the Psychiatric Service, University of Salamanca Health Care Complex
Salamanca, Spain
Biography
Carlos Roncero MD. Ph D. graduated as a doctor from the University of Valladolid and as a Psychologist from the UNED (Madrid). After training as a psychiatrist and obtaining a doctorate from the Rovira i Virgily University of Tarragona, Dr. Roncero is now a psychiatrist specializing in drug dependence and dual diagnosis.
Dr. Roncero is Head of the Psychiatric Service at the University of Salamanca Health Care Complex.  He is affiliated to the Institute of Biomedicine of Salamanca – University of Salamanca Until last year, he was the Head of the Addiction and Dual Diagnosis Unit at the Hospital Universitari Vall d'Hebron in Barcelona.
Dr. Roncero is involved in research trials of new medications for dual-diagnosis patients, as well as the study of the neurobiological and clinical markers of addition and VHC. He has received grants for the study of the comorbidities and cocaine dependence, and was the principal investigator in clinical trials for treatment alcohol dependence, cocaine dependence and schizophrenia.
Dr. Roncero has authored 166 articles, 93 book chapters and co-edited 14 books on the psychopharmacology of drug dependence, treatment of dual-bipolar/dual-schizophrenic patients, cannabis dependence, opiate dependence, personality disorders, and schizophrenia.
Since 2016, he has served as Vice President of of the Spanish Society of Dual Diagnosis. He has been a board member of the Dual Pathology /Dual disorders section of the World Psychiatric Association since 2012, and of the World Association Dual Diagnosis since 2015.
Disclosures
Carried out Proteus Project funded by Indivior and medical education grant from Gilead
Received financial compensation for participation as board member from Janssen, Lundbeck, MSD, Mundipharma Indivior, Exeltis and Martindale.
Received fees for giving lectures from Janssen, Ferrer, Pfizer, Indivior, Lundbeck, Otsuka, Servier, GSK, Rovi, Astra Zeneca, Gilead, MSD, Sanofi and Exeltis